Woodstock Community Woodland and Bio-Diversity
Woodstock's Community Orchard is now planted - details here
Our woodland is looking better than ever. Since the first trees were planted in the Autumn of 2010 the trees have steadily matured and with the grass drives and open glades have created a pleasant place for a stroll. We have two picnic benches so there are places to sit and contemplate nature or just take the weight of your feet. Do take a moment to come and see the woodland for yourself. But where is the woodland? It's as you leave Woodstock, on the main road heading for Chippy, just past the end of the 30 mph speed limit, on the left. There's a notice board a small gate and you're there. Or you can find it from this map.
In the winter of 2016/2017 we undertook by contract, some major scrub clearance work at the woodland to remove infestations of brambles and wisteria, both of which were choking the young trees. We took the opportunity to also remove excessive ash and sycamore suckers.
Pictures of our Community Orchard Planting days 25th and 26th November 2017
Two great days of glorious November sunshine. Plenty of good hearted volunteers from 4 years to 80! 80 fruit tree planted. Now watch them grow!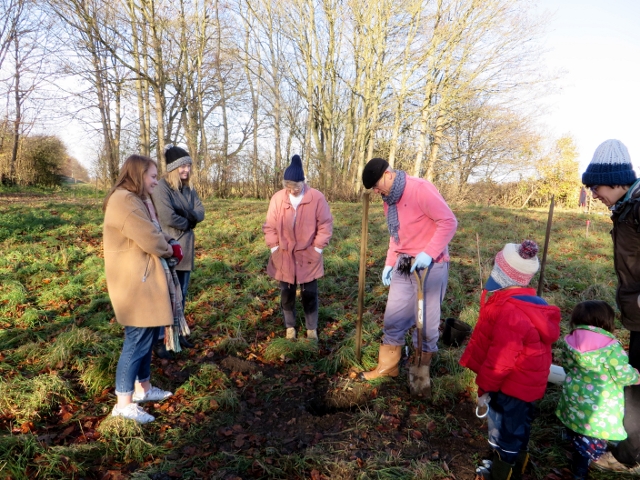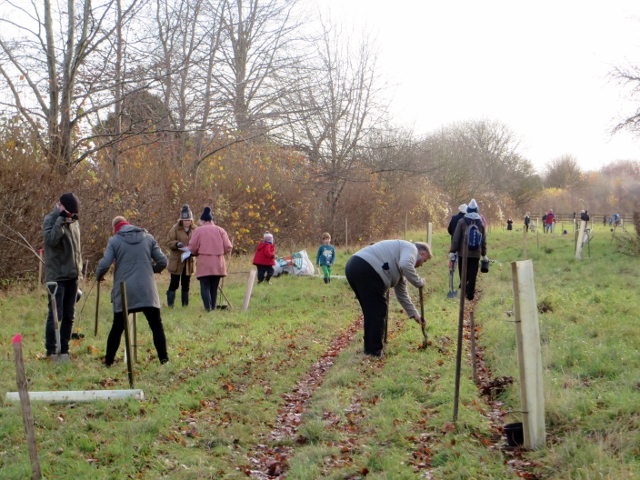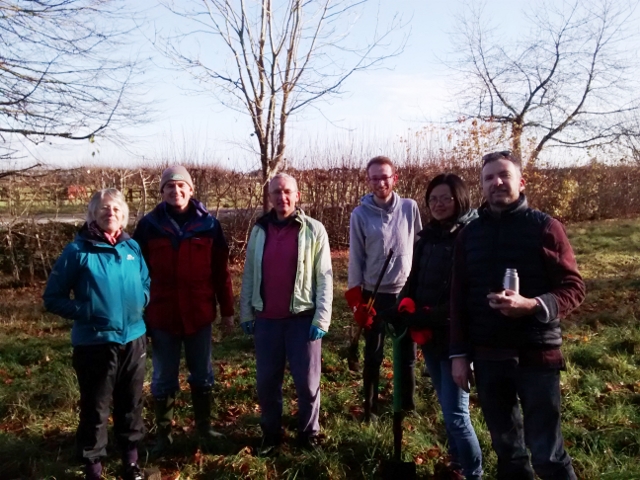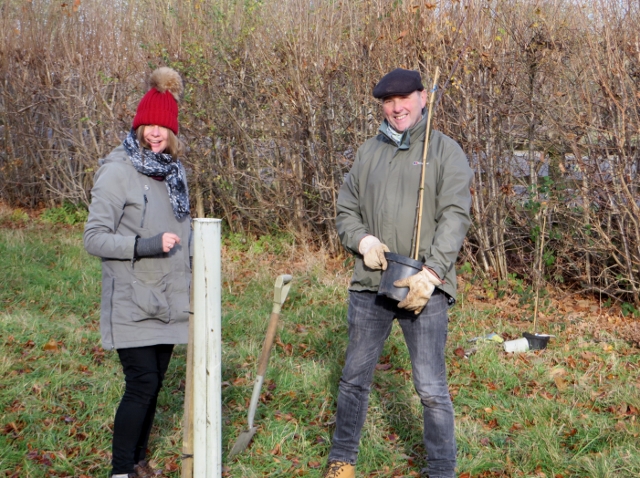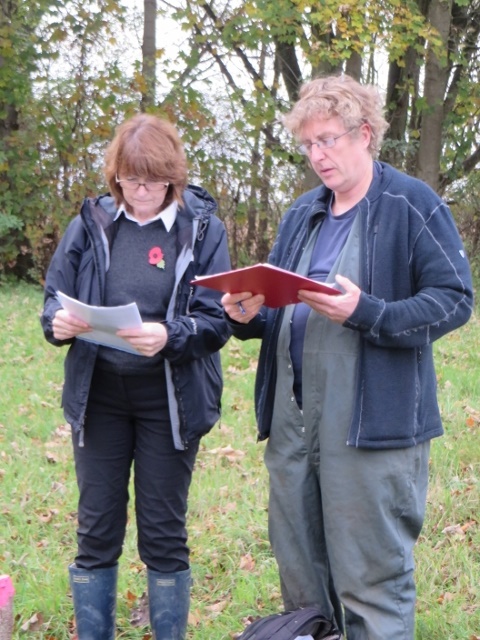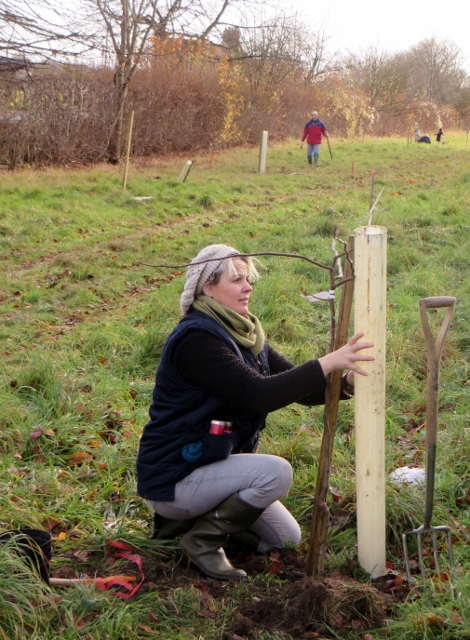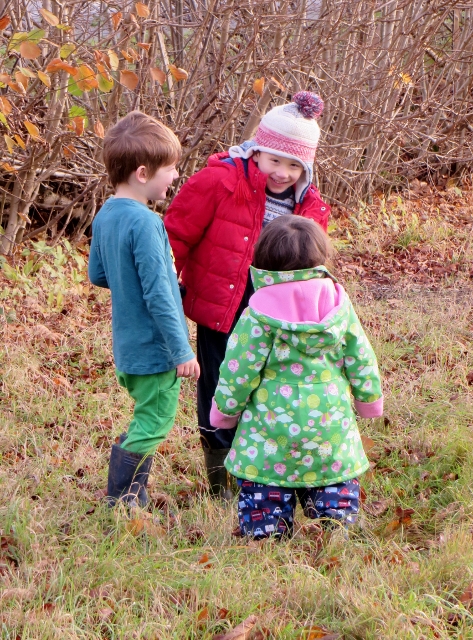 Left to right, top to bottom: 1. David Rees, our forester, provides instruction on planting: 2. the busy volunteers: 3. taking a break; 4. Bob and Miriam 5. Sustainable Woodstock Chair, Hilary Brown and Heritage Fruit Tree Company supplier Andy Howard; 6. Sophie planting a Blenheim apple 7. the next generation of woodlanders
Pictures from Woodstock Community Woodland Saturday 23rd July 2016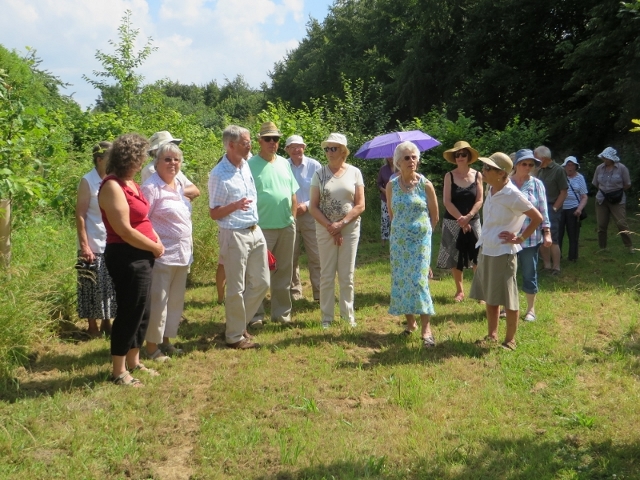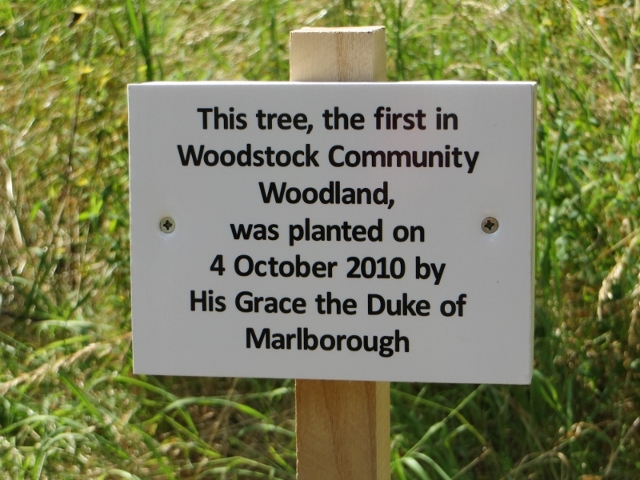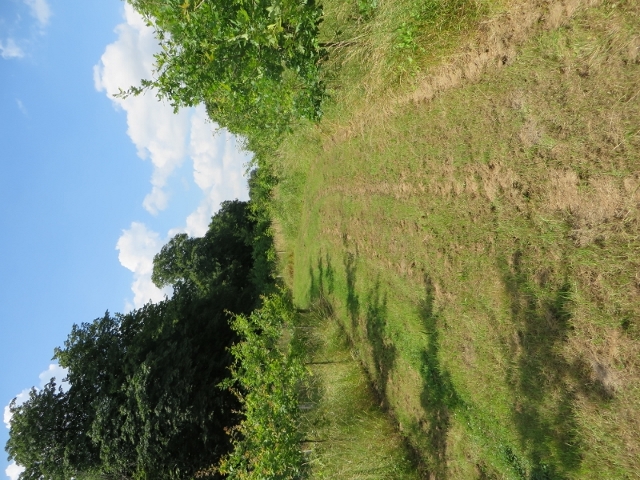 Left to Right: The woodland today (July 2016); The Natural History Society members gather around their Mountain Ash; the long overdue plaque to the first tree planted by His Grace the Duke of Marlborough
Logs4Labour
Logs4Labour is part of the Oxfordshire Woodfuel Project www.oxonwoodfuel.org.uk and connects people with woodlands who want to make woodfuel available, with those who are willing to undertake the hard (but rewarding) labour of coppicing to get woodfuel for free.
Sustainable Woodstock's Community Woodland is still in its infancy and the 1600 ash, hazel and other varieties we planted in 2010 have yet to reach the stage of coppicing. But along with the new plantings, our woodland includes a small area of semi-mature trees that have been in need of management and coppicing for a while. We have recently made this area available to Logs4Labour and the results of the first workday are impressive.
A team of half a dozen hearty woodmen (and one woodwoman) set to with a will to make short work of coppicing a sizeable grove of ash. The wood was left tidy with brushwood being stacked neatly into habitat piles.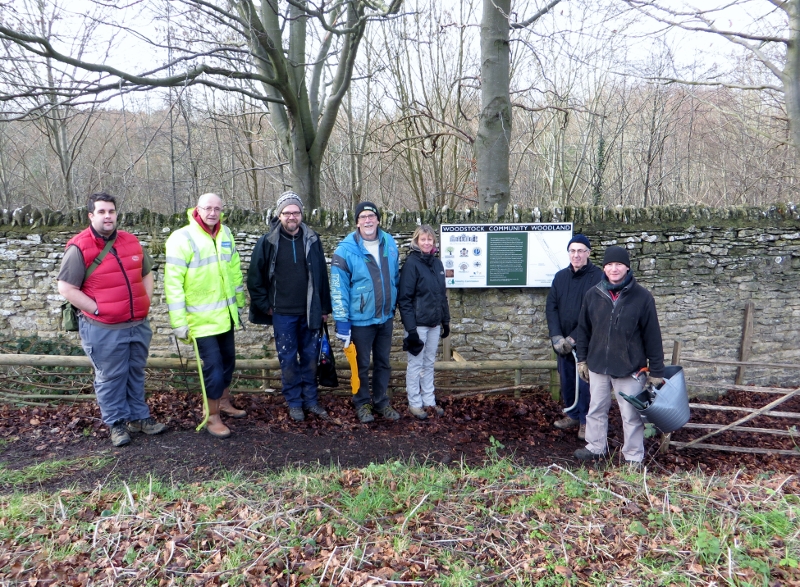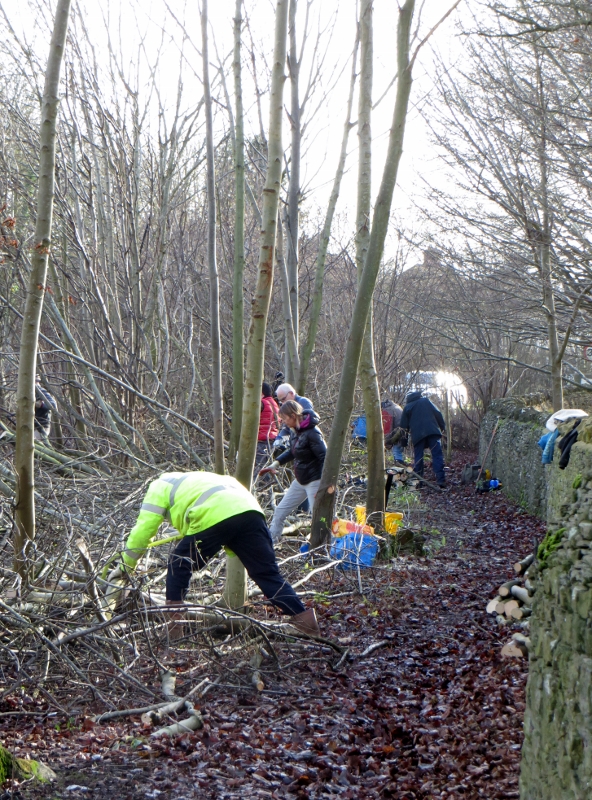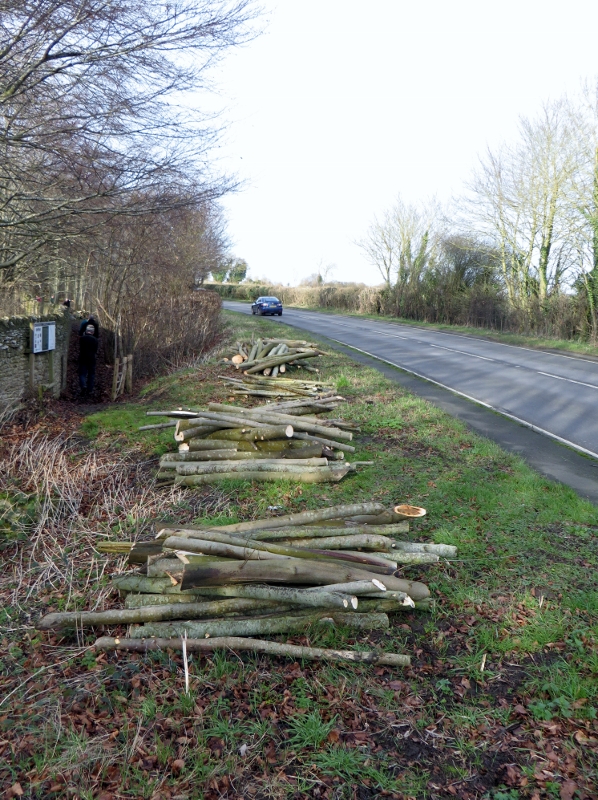 Left to right: The Logs4Labour team - ready to roll: Hard at work in the woodland: the day's crop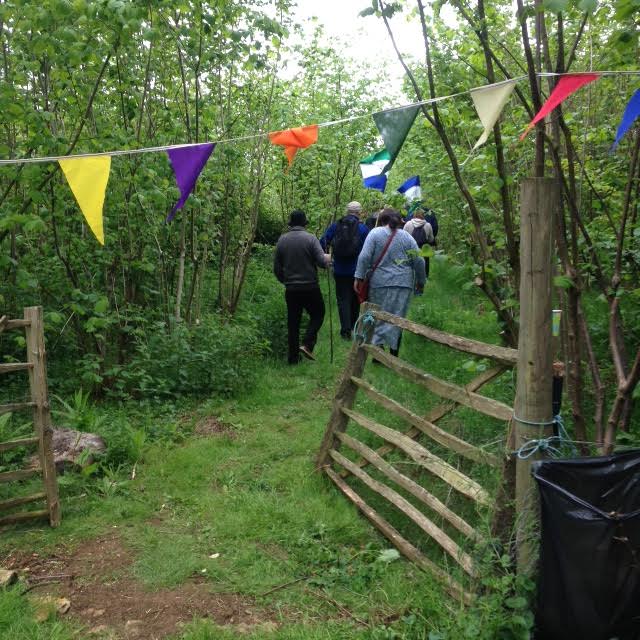 The Weaveley Furze Trust manages six acres of ancient 'fuel allotment' between the Woodstock-Banbury and Oxford-Banbury roads. The woodland is now managed for coppicing, wildlife and the quiet enjoyment of visitors. Many people from Woodstock will be familiar with it and local schools have paid visits, planted trees and learned countryside skills there. The trust's webpage is http://weaveley.blogspot.co.uk/



I went up to the woodland today (11th Feb 2013) and struggled to tell one tree from another. Fortunately the Woodland Trust has prepared a little winter twigs quiz to help us learn our hazel from our birch. Colin C.
Try it out. Go to http://www.naturedetectives.org.uk/download/id_twigs_quiz
"The best time to plant a tree is yesterday. The next best time is today"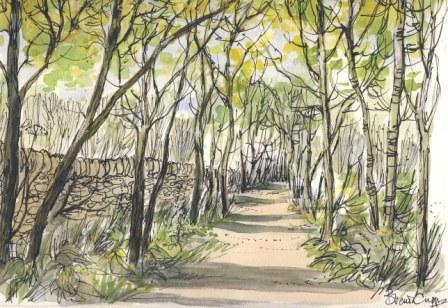 Artist Impression of the Wood in Twenty Years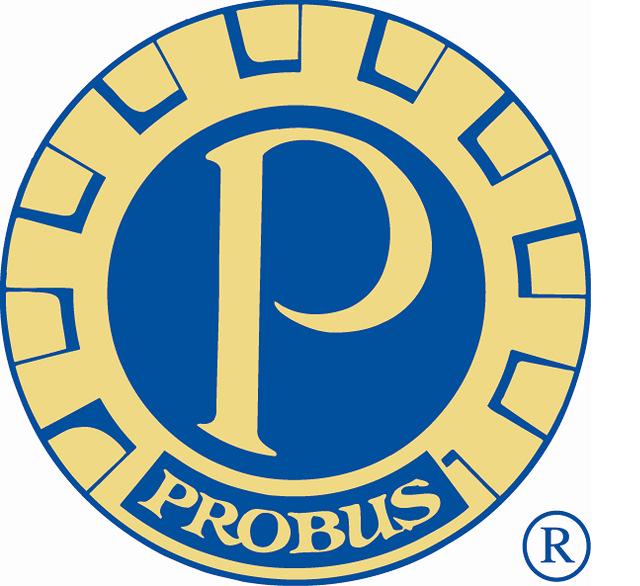 The Community Woodland was made possible with the help of many people. Above all, the volunteers who dug the holes, clean and recycled stakes and shelters, shovelled the mulch, placed the trees, backfilled the holes and compacted the soil. All 1600 trees were planted through one of the coldest winters. We also thank a number of voluntary, commercial and institutional groups who helped to make the woodland possible.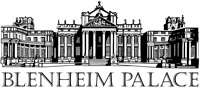 Woodstock Probus had the idea in the first place and provided some of the voluntary labour.
His Grace the Duke of Marlborough gave us the land on an eighty year lease free of charge. We had the support of Blenheim's forestry team who secured grants from the Forestry Commission.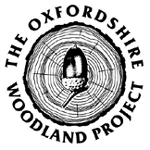 The Oxfordshire Woodland Project is an independent group providing expert advise and assistance for groups and individuals wanting to establish woodland habitats. We were fortunate that the Oxfordshire Woodland Group's leader is also a key member of Sustainable Woodstock and we relied heavily on his expertise and guidance.
Woodstock Town Council supported the project throughout and
is the guarantor of last resort for Blenheim Palace.
We secured generous grants from the west Oxfordshire housing association, Cottsway (their community grants division is called "Welcommunity"), and from the Real Wood Furniture Co. in Woodstock, and we received volunteer support from the town's primary and secondary schools, from the Wychwood Project, a volunteer group committed to woodland development, from the scouts, from a bereavement charity called @@@ and from many others.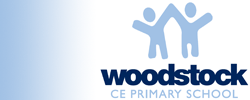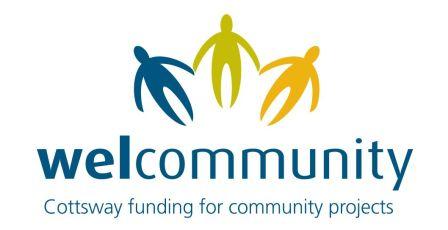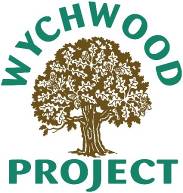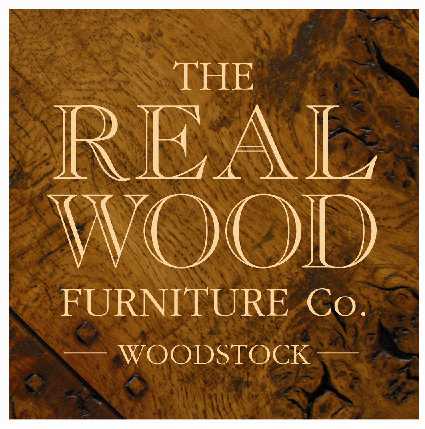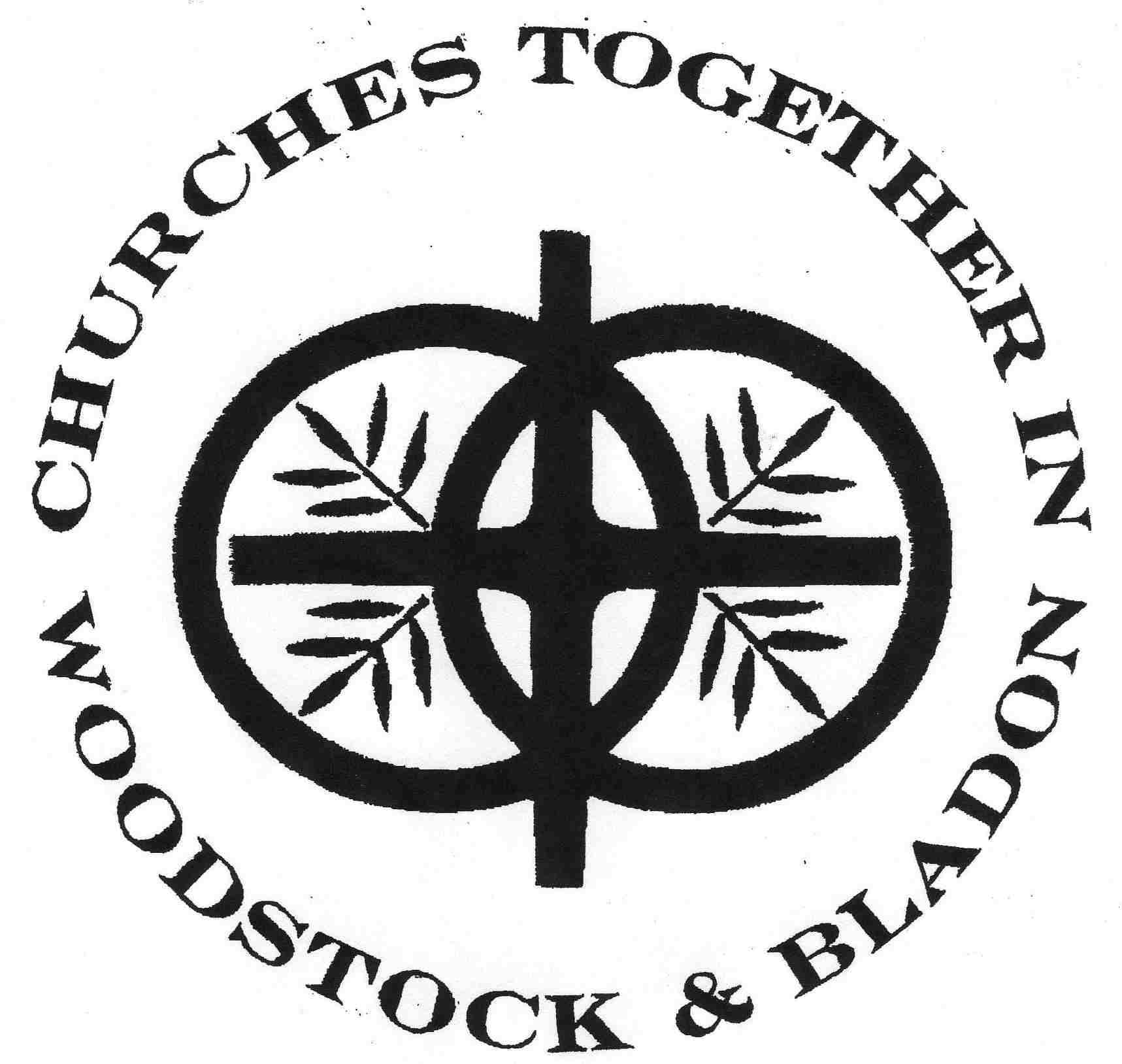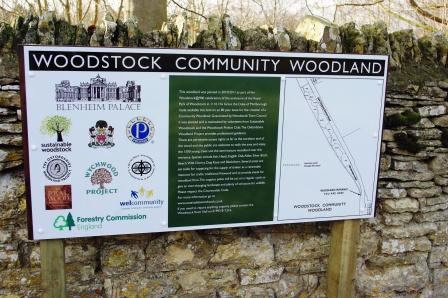 Left: The Woodlands Noticeboard at the entrance opposite Hill Rise, Woodstock
Right: Woodland progress after 12 months growth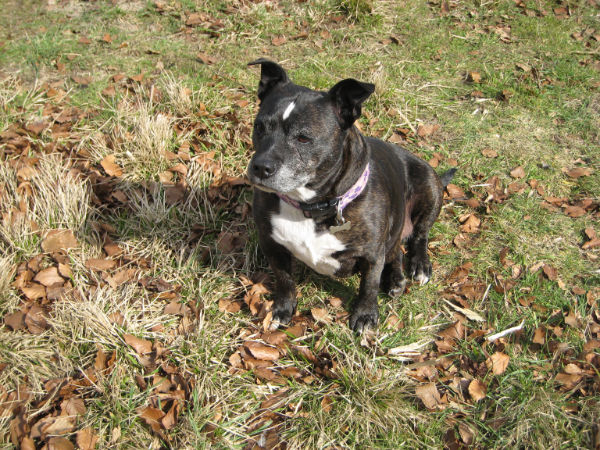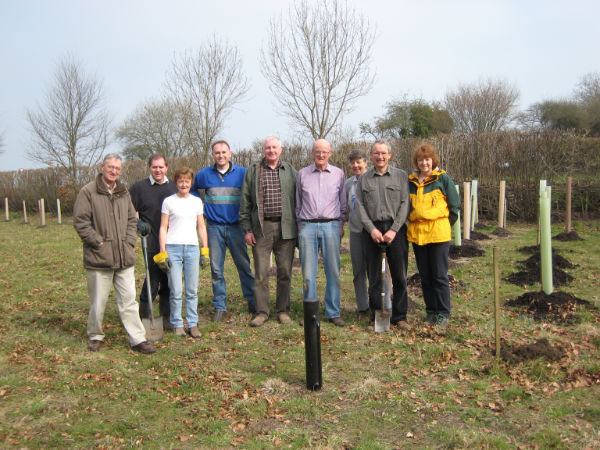 Left: Suzie. In charge of tree planting
Right: Planting the last few trees on completion of the project
Riki Therivel is the new Oxfordshire Woodfuel Programme Manager, with the aim of increasing the production and use of woodfuel in the county. This reduces greenhouse gas emissions because it replaces fossil fuels with a more renewable resource, and improves biodiversity through better woodland management. Please see www.oxonwoodfuel.org.uk for more information. Click here for the most recent woodfuel community bulletin.
Riki will help:-
Give a talk about woodfuel

Help to organise a woodfuel purchasing scheme

Try to organise a "logs for labour" swap between local woodland owners and volunteers

Advise on local woodland management for fuel and bio-diversity

Advise on opportunities and funding for woodfuel boilers
She will be running two site visits – on 15 April and 8 June - that include a well-managed woodland, woodfuel processor and woodfuel boiler: see www.oxonwoodfuel.org.uk/woodfuel-site-visits/.
Want to buy Woodfuel?
Here's a message from a local supplier:
"I thought I would contact you as I am offering a sustainable log delivery service to sustainable Stonesfield that worked very well last year (and again this year if they get enough orders together)
Basically, it entails you supplying some builders bags (volume is 0.8m3 for a normal bag) to me (or I can buy them in, but it would have to be added to cost of logs, and you probably have a friendly builder supplier that might donate some) to fill with seasoned hardwood logs, I then put them (at least 10 orders needed) on our 12 tonne truck that has a hiab crane on it, and spending one delivery 'round' (rather like the coalman does) and delivering the builders bag (to be reused by your group) full of seasoned hardwood logs to clients for £45 per bag.
If you are interested in coming to the site and having a look to see what we're doing then please get in touch. My phone number is 07436546411"
The Woodland Trust has developed a new website www.treedisease.co.uk where you can find out how to identify Chalara Fraxinea and keep up to date with the latest advice. At this time of year pay particular attention to any diamond shaped lesions on the main stem where side branches join.
If you believe your trees, or other trees in your area are infected please report it immediately to the following contacts: In England and Wales: Chalara helpline: 08459 33 55 77 (open 8am - 6pm every day) or plant.health@forestry.gsi.gov.uk In Scotland: Forestry Commission Scotland: 0131 314 6156 (9am - 5pm weekdays) or fcscotlandenquiries@forestry.gsi.gov.uk
While there are serious concerns about the disease, it's not necessary to remove any healthy ash trees - the way that the disease spreads is still being investigated and depending on the location of your trees there may be minimal risk of them contracting it in the short term. We're awaiting further advice from the Forestry Commission and Defra about the likely longer term impacts of the disease. All of the various tree species we have provided through the community tree packs scheme were sourced and grown in the UK (as were Sustainable Woodstock's trees for the Community Woodland) and our suppliers were subject to annual checks for all diseases by the Scottish Government's plant health officers.