Welcome to Sustainable Woodstock's
Home and News Page
To learn more about Sustainable Woodstock go to "About Us" page

To read Hilary's monthly news digest read on below:-
or Go direct to the Sustainable Woodstock Noticeboard for more info
Sustainable Woodstock News
November 2018
Hi Everyone,
My personal priorities have changed this month due to illness in my husband's family but please keep the flags flying for sustainability. Some thoughts and information in the newsletter below and an event to consider for this Saturday in the Oxford Town Hall.
Hilary Brown Chair of Sustainable Woodstock.
Do the Right Thing at Seasonal Events!

Ditch the single-use plastic.
Please remember and remind others to take reusable cups to seasonal events in and around Woodstock. Good for mulled wine, chocolate, coffee, tea, whatever your tipple. Like your reusable bags. Click HERE for tips.
Get into the Habit .....
... just needs a few more seconds planning.....
don't leave home without one.
Losing the incentive to go green
with your next vehicle choice?
Last month we informed you about the grants available for greener hybrid and electric cars. ... so how disappointed were we to hear that cash incentives aimed to encourage us to buy electric or plug-in hybrid cars are to be slashed really soon and some incentives removed completely.

Cars that meet the toughest CO2 restrictions will have grants cut by £1000 (£4500 to £3500) but grants for category 2 and 3 models (£2500, mostly hybrid) are going altogether. The new rates come into effect on 12 November and the Government threatens to bring the date forward if sales are higher than expected following the announcement!

With costs still a huge barrier for some hoping to switch to an electric vehicle, we believe this move is a big step backwards and in contrast to some other countries. click HERE for more info.

Write to our MP, Robert Courts, now and ask the government to think again.
robert.courts.mp@parliament.uk
This Saturday
10 am until 4 pm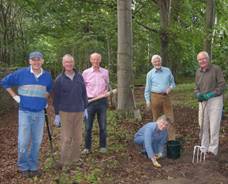 Thanks for the Bluebells
Woodstock in Bloom and Sustainable Woodstock thank all volunteers for their time....and their effort. A total of 4000 Bluebells have now been planted in the Community Woodland!
Zero Waste Shopping
Market Garden
is Open
Eynsham's Zero Waste shop is now open (see Eynsham's site by CLICKING HERE).
Look them up, next time you're passing.. Perhaps somebody is willing to consider opening a shop here in Woodstock?
Opening Times Monday-Thursday 9am-6pm; Friday 9am to 6.30pm Saturday 9am to 6pm

Contact /Address 01865 604571 41 Mill St, Eynsham, OX29 4JX
Quit Idling - Please - If you have to drive loved ones to school, work, etc - please turn off the engine when stationary ..... please don't idle. The things you can't see are doing just as much damage to your body.

We Want Your Seeds!
Watch this space and Facebook, etc - we hope to plant seeds in the near future....we'd love you to be in on it.
We plan to enhance the community orchard grassland with a range of locally collected native flowering plants that are known to be benefit bees, moths and butterflies.
Whatever comes up is likely to diversify the area over time and make it a more viable habitat.

Please try to keep seeds of different species separate, place in a re-used envelope, secure and label with species and locality of collection.

Call/text David Rees on 07801337382 or email
sustainablewoodstockuk@gmail.com
if you have seed to offer. If you would like to know more or get involved in some other way, lets talk.
Plastic Hint of the Month
...plus A5 for A4?
Please try not to laminate posters for noticeboards unnecessarily. Some are there for just a month and thrown away. Please use where necessary only e.g. permanent notices in cafeterias etc where they need wiping daily.
Try to use A5 notices instead of A4 and give all comers a chance.
Please pass it on.

Surplus Tools?
Can you donate any?

It's always satisfying to find a good home for tools no longer used or are surplus. If you have tools that you think might be of use in gardens, woodland or orchards and still in good order, please get in touch by CLICKING HERE
Would you like to sponsor a tree in the Community Orchard?
Over 50% now sponsored.
You can sponsor as a gift, amongst friends, colleagues or dedicate in memory of a loved one.
How to Pay? Costs £30 (single payment) 1) BACS payment. 2) Cheque For details contact as below.
Questions ? Call 01993 811975 or email sustainablewoodstockuk@gmail.com
Thinking of Going Electric or Hybrid?

Car dealerships and manufacturers can get grants to reduce the price you pay for brand new electric and hybrid vehicles. You do not need to do anything if you want to buy one of these vehicles - the dealer will include the value of the grant in the vehicle's price. Click on links for more info.


https://www.gov.uk/government/collections/government-grants-for-low-emission-vehicles



ALSO:- The OLEV Grant also known as Electric Vehicle Homecharge Scheme provides £500 off the cost of purchasing & installing a home charging point. Available for most electric cars and plug-in hybrid cars. You can claim one charging per eligible vehicle and up to two charging points per household. lick on links for more info. https://www.gov.uk/plug-in-car-van-grants

Sustainability is often defined as meeting the needs of present generations without risking the ability of futures generations to meet their own needs and should lead to a better quality of life for everyone, now and for generations to come.

Local actions are now influencing changes nationally and internationally and by working with our community, our projects and campaigns have a greater likelihood of success. We are interested in raising awareness on issues such as climate change